Episode Overview
I hope that you enjoyed the new year celebrations and you are FIRED up to make 2017 your best year yet!
Today's episode marks the beginning of a special New Year Transformation series and I have an incredible guest for you to launch into the new year the unstoppable way! In this episode Derek Rydall walks us through the law of emergence and each of the 7 steps for radical life change – I'm so excited for this episode – its one I will go back to over and over again so I'm absolutely delighted to introduce you to Derek Rydall and his incredible message.
It is time to EMERGE as your best self in 2017!
About Derek Rydall
Derek Rydall is part of the new generation of spiritual visionaries and thought leaders and the author of the #1 Amazon/Barnes & Noble best-seller EMERGENCE: Seven Steps for Radical Life Change and the world's #1 expert on the revolutionary Law of Emergence.
Derek has trained top executives at Fortune 500 companies (from American Express to Disney) in empowered leadership and communications, and has coached celebrities and media professionals, including Oscar and Emmy winners, on creating conscious entertainment. As a regular Huffington Post contributor, and host of the top-rated Emergence podcast on iTunes, he reveals cutting-edge spiritual principles and success strategies to achieve financial freedom and abundance, master productivity and creativity, and gain true wealth and happiness. With his global platform, Derek has touched hundreds of thousands around the planet with his message on finding your path, living your purpose and making a powerful impact!
In this episode you will discover:
How to activate your natural potential
How to take control of your destiny by developing your character
A simple powerful visualisation technique to help you to manifest your dreams
How to create a quantum plan to accelerate your progress this year
How to apply the law of emergence in your life to create radical transformation
Episode Resources:
Derek would like to offer his Law of Emergence audio eCourse FREE to listeners of the Unstoppable Podcast!
In this 7-part high-impact content training course, you'll discover the true nature of your consciousness and how to access its full power to transform anything in your life —  you'll learn how to activate the Law of Emergence principle and actualize more potential than you ever thought possible so that you can take your life to the next level!
BOOK : EMERGENCE – 7 Steps for Radical Life Change 
Check out the bonuses on offer with Derek's best selling book
here
!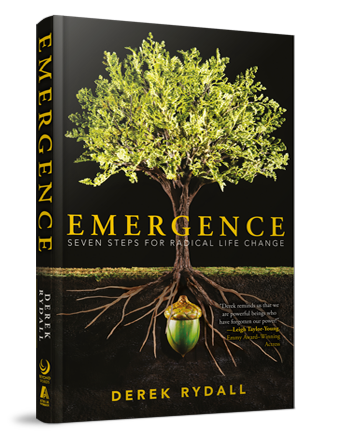 SHADOW SELF PROCESS – Rapidly Remove Unconscious Patterns Sabotaging Your Success
Download the Shadow Self Audio Process
here
Quotes:
"When the conditions match the pattern already within the seed then its potential emerges"
"Are your thoughts, feelings, words, actions, relationships, environments in alignment with abundance or lack?"
"At the end of the year it's not how many possessions you have accumulated, but how much greater possession you have of yourself"
Connect with Derek online:
Unstoppable Resources:
Thank you for listening to the Unstoppable Podcast!
I'm incredibly honoured that you joined me for this episode of the Unstoppable Podcast! If you enjoyed the episode, please share it using the social media buttons you see at the bottom of this post.
What did you learn in today's episode? Please share in the comments below…